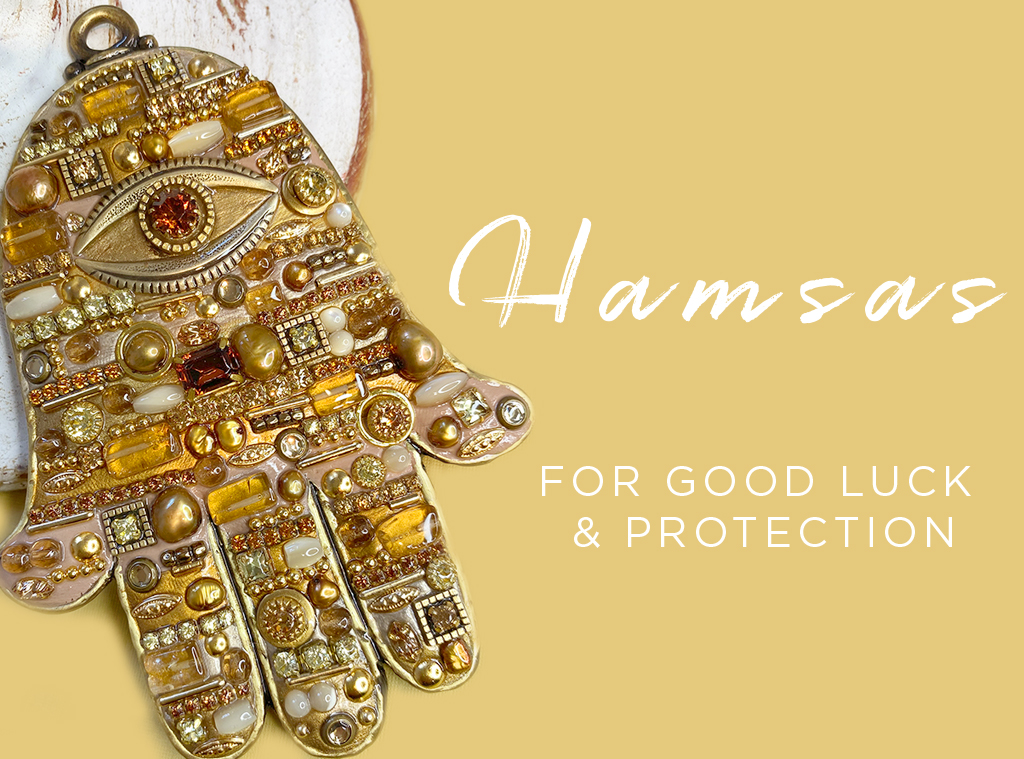 If you are a fan of my work you have no doubt seen a hamsa before!
This unique symbol, most commonly seen in jewelry and home decor, is actually an ancient Middle Eastern sign of good luck. It is shaped like a hand with 5 fingers, and represents the Hand of God for protection. In Israel, where I grew up, people frequently had whole collections of hamsas hanging on their walls, made of glass, metal and ceramics. The hamsa represents good luck and protection from negativity. Much like the evil eye, I love using the hamsa symbol because it spreads positivity and light! Although the hamsa originated in the Middle East, anyone can wear or display a hamsa regardless of religion or nationality.
So now that you know more about hamsas, you may be wondering in what situations to wear or gift them. A hamsa bracelet or necklace makes a thoughtful gift, especially for a friend going through a hard time who may need a good luck charm. Hamsa wall plaques are a great wedding or housewarming gift and help bring light and love into a new relationship or home. But ultimately, hamsas can be worn, displayed or gifted at any time of year and are not season or holiday specific!
I love seeing this symbol that is part of my culture and heritage now being appreciated and worn by all kinds of people. If you've been curious about the hamsa before or are hesitant to purchase one for yourself I hope this blog entry has changed your mind.